I have not been food-posting for quite a while, have I?
I have a few photos of food from my last
Sushi Zanmai
outing, and also from my last
Pick 'n Brew
outing. However, today, I choose to blog on a food that I have tried in Kuala Terengganu.
During my visits to
Secret Re
cipe, I could not help but notice a
kopitiam
which is located next to the cake franchise. The
kopitiam
has a familiar indoor setting as the
kopitiam
selling Ipoh White Coffee from up north which is sprouting in KL.
After my Redang trip (which I have yet to post, wait
la
hor), I finally got a chance to dine there. Much to my amusement, I realized that the kopitiam had changed its signboard to a signboard which looks a little bit similar to the
kopitiam
I mentioned in the paragraph before this. =P I should have snapped a photograph of it.
Anyways,
Uncle Chua's Kopitiam
is located between Secret Recipe and Ming Star Hotel, Wisma Cemerlang, Jalan Sultan Zainal Abidin in Kuala Terengganu, quite near to Grand Continental Hotel. The setting of the kopitiam is almost the same as the other
kopitiam
, so I a bit lazy want to go into details
la
.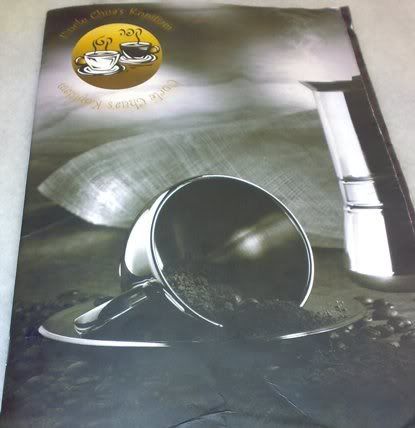 The menu offers almost the same stuff as you can get in any
kopitiam
BUT, this is
kopitiam
Terengganu-style, where
they serve fried AND boiled keropok lekor
, a local delicacy here in Terengganu.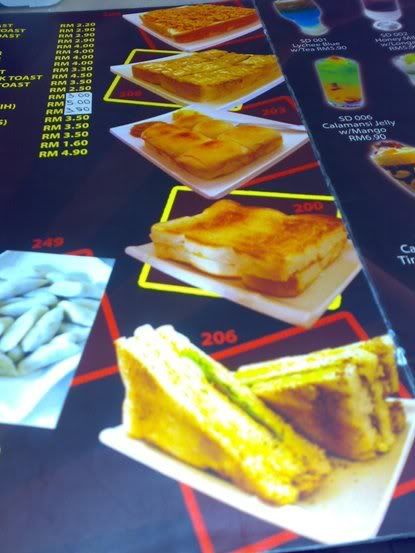 Besides the usual
kopitiam
drinks, they offer various kinds of blended drinks, which can be seen below: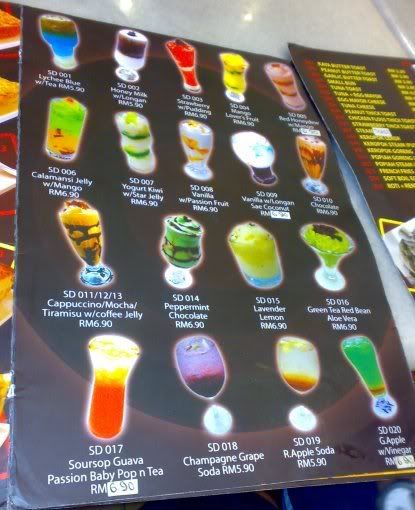 Ah! Got place to wash hands! Somemore so nice
pulak
! Haha.. =P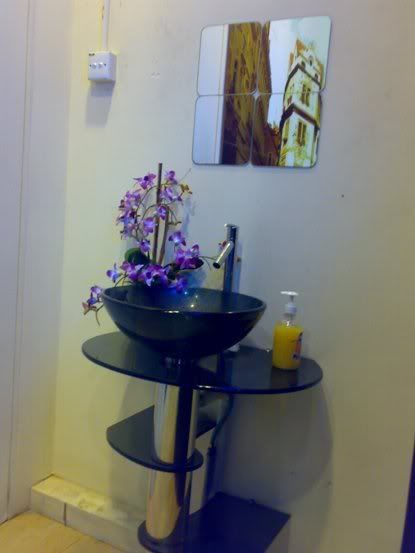 From the inside..
I proceeded to order
Iced Hazelnut Coffee
, a drink which I kind-of-like to order in Old Town, I'm not sure why.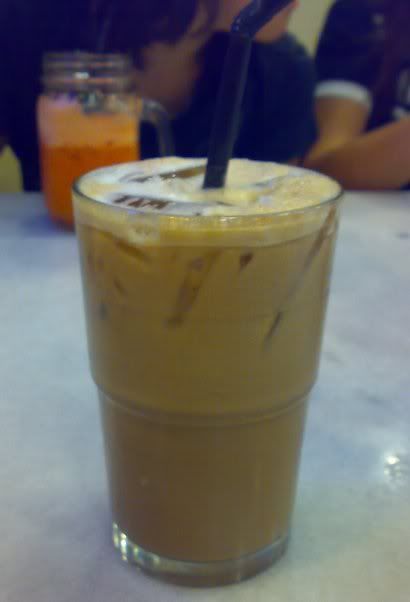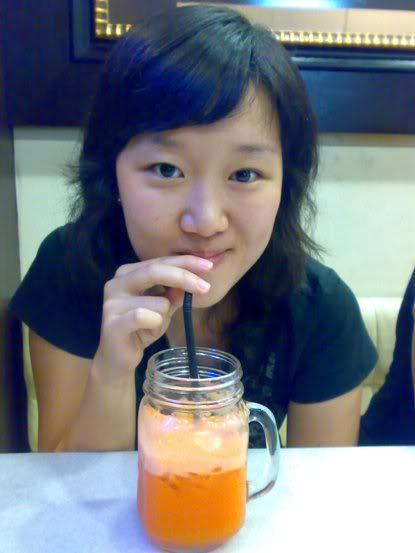 Yng Jiun and her Carrot+Apple Juice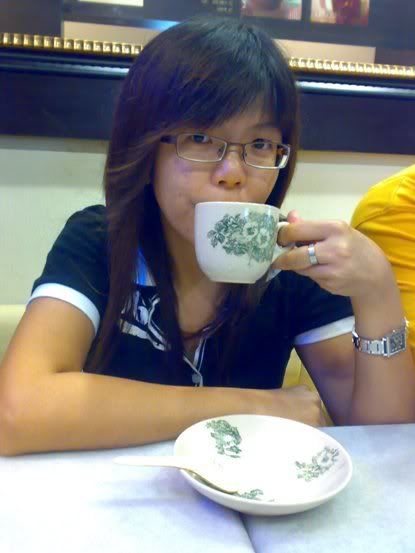 Mun Yee and her cup of Cappucino, served kopitiam-style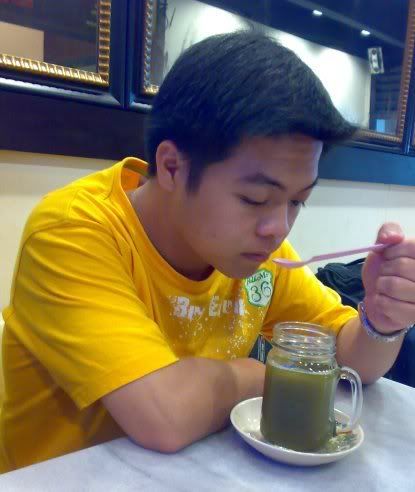 Ken Sheng and his bitter Green Tea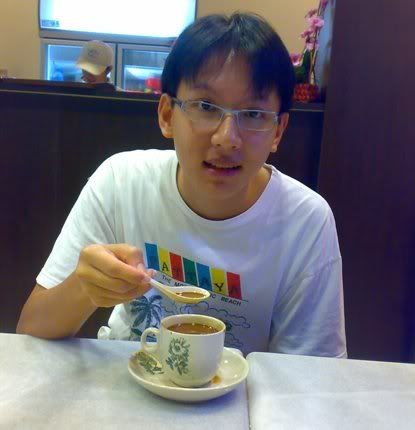 Kopi O fan, Ernest
Now, let's get on with some photos of the food offered by
Uncle Chua
. This is for
Selene
who really LOVES my food photos! =D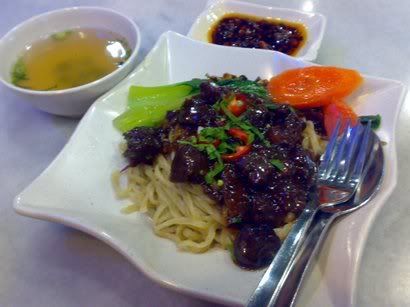 Beef Noodles
The Beef Noodles I ordered came with tender chunks of beef, soft-soft ginger and veggies in black sauce with tasted like
hong bak
(literally translated as wind meat, a dish I will usually have during CNY. Ernest said it's the 5 spices dish or something like that). I like the noodles very much but they did not absorb the sauce, so it was a bit tasteless. Thank goodness for the chili oil, goes well with the dish. The soup was nothing special. And unfortunately that day, the soup came with a fly.
Yes. I had a fly in my soup.
Eww.
Changed it with a new one, and I hope they did pour the whole thing out and not just scoop the darn
lalat
out.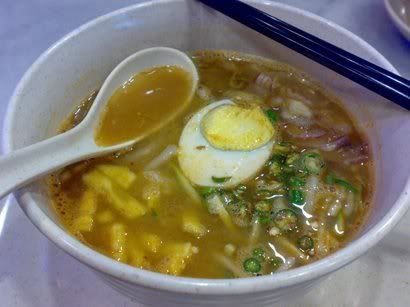 Penang Laksa ordered by Ken Sheng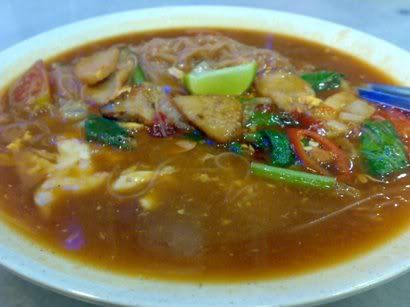 Meehoon Bandung
Yng Jiun ordered the Meehoon Bandung, which is not bad, although the soup tasted like tomato ketchup which is mixed with water. =P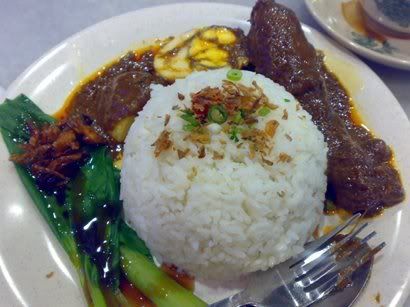 Nasi Chicken Rendang
The Rice with Chicken Rendang did not impressed us much. The rendang gravy tasted powdery, which had Ernest commenting that they might had used the instant rendang packet instead of cooking from scratch. This one loses to Old Town's.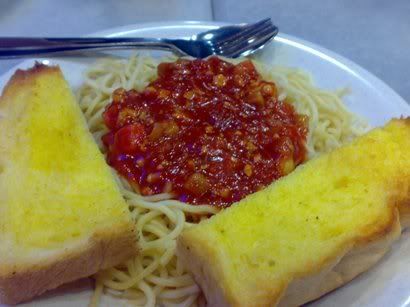 Spaghetti ordered by Mun Yee, which is not really special, but filling due to the tasty pieces of toast
We spent around RM40++ (no service charge AND government tax woohoo!).

Overall, we would not mind getting there again for some kopitiam food since we can't afford to go to Secret Recipe too often. Haha.
Til then, have a nice day~