Did you all watch the opening of the Beijing Olympics 2008? I must say, Zhang Yimou rocks, man! Gosh, the torch-lighting part was awesome! Spectacular! *applause* Good luck to the Malaysian contigent! =)
On Thursday me and my lovely friends organized a mini steamboat party for a few of us: Me, Ernest, Mun Yee, Yng Jiun,
Bee Kee
, San San, Yen Lin and Ken Sheng at our place. I had been having funny cravings for certain food such as steamboat, toast with bread and butter, tao foo fah and thanks to them, my wish to have a steamboat meal was fulfilled!
First and foremost, let me enlighten you peeps about steamboats, which I read about from
WikiSteamboat
.
"Steamboats refer to a variety of dishes eaten throughout East Asia, where ingredients are cooked in a simmering pot of broth at the table.."

Yup, the ones where we get in restaurants, there will be two kinds of soup: one normal one and another one is spicy.
"Typical steamboat ingredients include thinly sliced meat, leafy vegetables, mushrooms, tofu, noodles or seafood. The cooked food is either eaten with a dipping sauce, or sometimes as a soup.""In many areas, steamboats are often eaten in the winter."
Or in Malaysia's case, it is best eaten during cold, rainy days. =)
And so after much planning, my housemates and I, together with Ernest and Ken Sheng woke up "extremely" early to venture out to town to get the ingredients. We ventured to the morning market in
Kampung Cina
(or better known as Chinatown to us) where we spent RM55 for many kinds of balls! @_@
Okay
la
. Not balls only. Got some chicken breast and a bag of
foo chok
(dried tau foo skin sort of things you can find in yong tau foo or curry noodles). Had breakfast in
The Homemade Cafe
before hurrying off to Mydin Mall to get some veggies (got ourselves lettuce, I wanted Roman lettuce actually but accidently bought the normal ones), oyster mush
maros
rooms, baby corns, prawns, Japanese tofu and glass noodles. Oh, not forgetting the sotong balls! =D I lup sotong balls!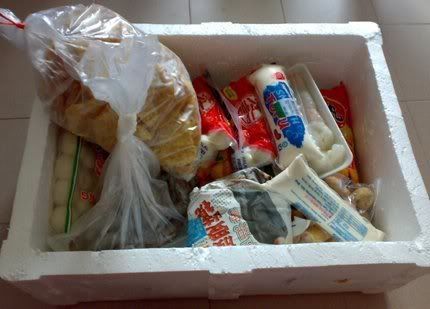 These were most of ingredients. We got the polysterene container for free after spending RM55 from the auntie who made us spend that much.
mahahaha
We started preparing for the parteh after our stupid-
tak
-
patut
-
wujud
-
dalam
-
jadual
-so-freaking-out-of-the-blue-
kena
-have-one class, where our two main chefs were: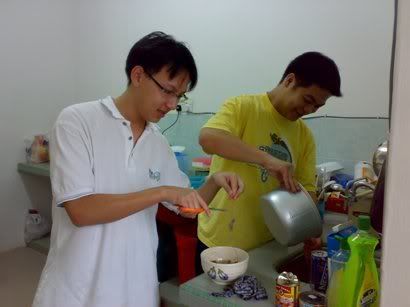 Ernest and Ken Sheng! Here Ernest is cutting of the misai of the prawns while Ken Sheng is cleaning rice to be cooked!
We girls
cuma goyang kaki
while Yng Jiun went and did something non-related to the parteh: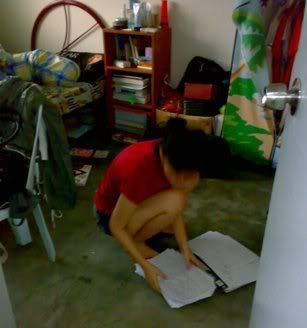 Cleaning her room! Apadah..
Close up on the main ingredients of the stock which were used to make our broth: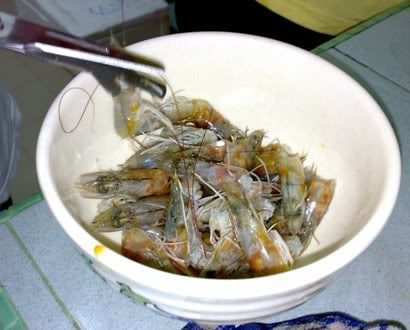 PRAWN HEADS!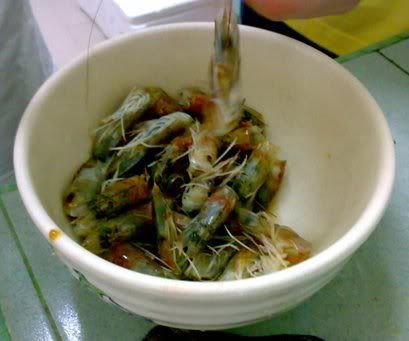 ewww...
Anyways, the ingredients of our broth were:
heads of prawns, misai taken off
2 chinese mushrooms, soaked in hot water and sliced
lemongrass
lime leaves (
daun limau purut
)
tomyam paste
(no salt, sugar or ajinomoto added to ensure a healthy broth)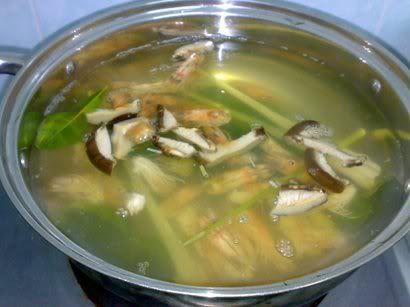 Floating mushimarosrooms, before tomyam paste is added

Prawns heads not satisfied with all the attention the mushimarosrooms had, so started to swim up to show themselves. This is also before the addition of tomyam paste.
Not satisfied that only the boys are the ones getting into the action, we girls decided to help out, and also pretend
la
, because want to take photos
mah
!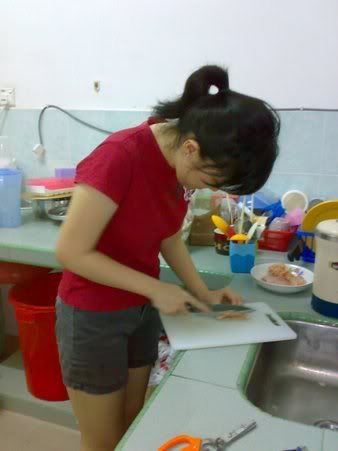 Yng Jiun slicing the chicken breast into small pieces. Tips for softening your chicken by her: mix the chicken with some tepung ubi and soy sauce before cooking! Will definitely soften up your chicken pieces!
After that, I busybodied myself by cleaning the baby corns which Ernest wanted.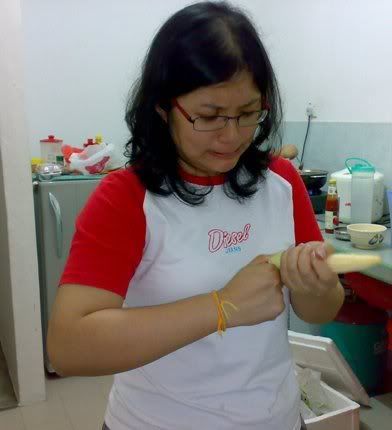 This photo somehow turned out.. obscene. XP
Mun Yee, however, relaxed herself by using the oyster mushrooms as fans and posing for this photo: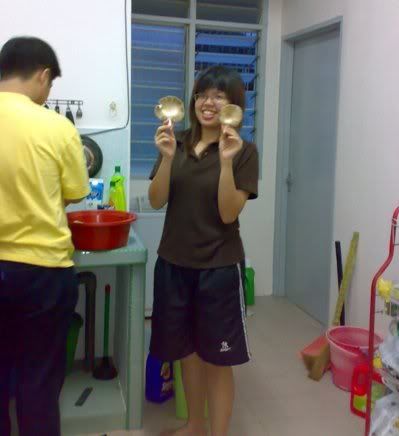 wheeee!~
Finally, the broth was added with some tomyam paste and transferred into a bigger pot borrowed from Yen Lin and gang's place.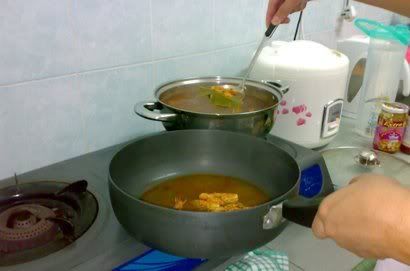 and the parteh began!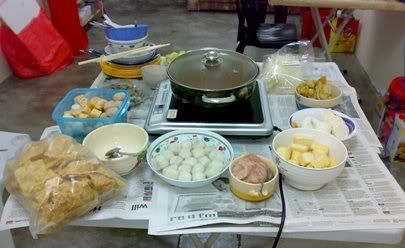 A table full of food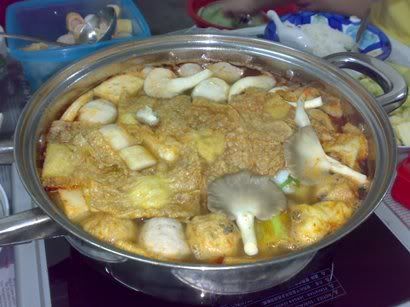 A pot full of GOODIES!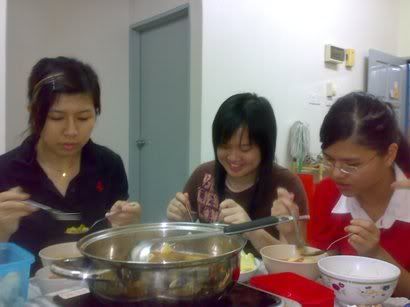 Lovely guests enjoying their food
Bee Kee: Ken Sheng, i want sohun (glass noodles)..
Ken Sheng: *ignores* ngap ngap.. *slurp2*
Bee Kee: I wwwaannttt sohunnnn..
Ken Sheng: *scoops soup into his bowl*
Bee Kee: I want sohun! Fasterla..
Ken Sheng: *ignores*
Bee Kee: *grumbles and decided to take matters into her own hands*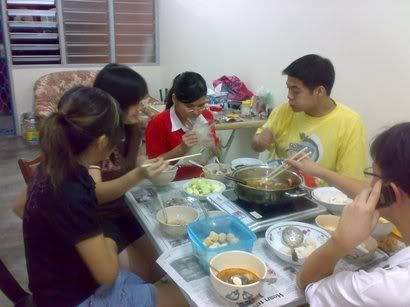 Bee Kee: *grabs the packet of sohun, instantly eating away*
Ken Sheng: *shocked* Oit, haven't cooked la, let go let go!
Bee Kee: *thinks* Don't care, don't care.. *continues eating from the packet*
Ken Sheng: *speechless*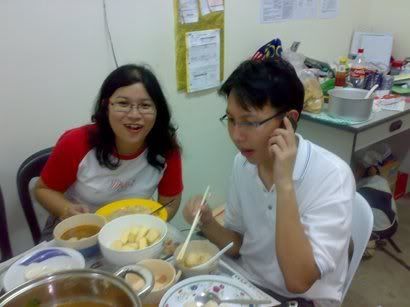 WeeN is high on food while Ernest is discussing business while eating! Too busy already this fella..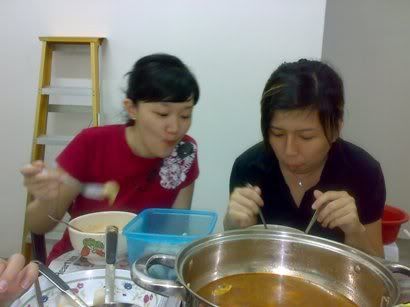 Yng Jiun attempts to dump the things that she DOESN'T want to eat into Yen Lin's plate..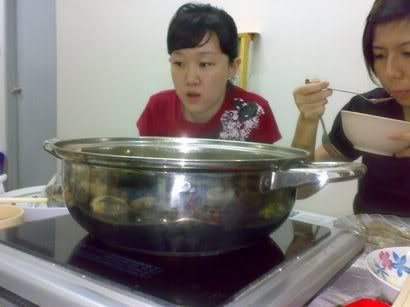 Yng Jiun's super reliable pot! Not only it is used for cooking and steamboating, it is also for boiling water for bathing! =P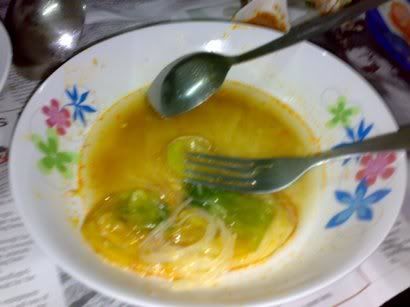 This pretty plate is courtesy of Darlie toothpaste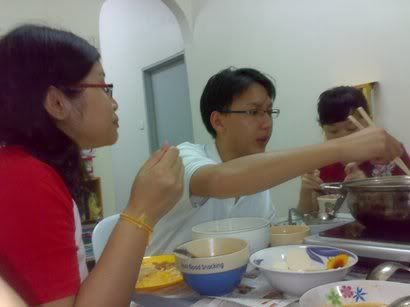 Ernest digs his mighty chopsticks into the pot of gold, only to find..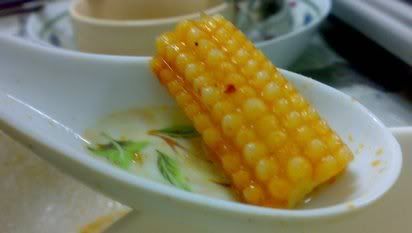 *gasps* A sOoper bladdy BLOATED baby corn! Hoooolllyyyy cow!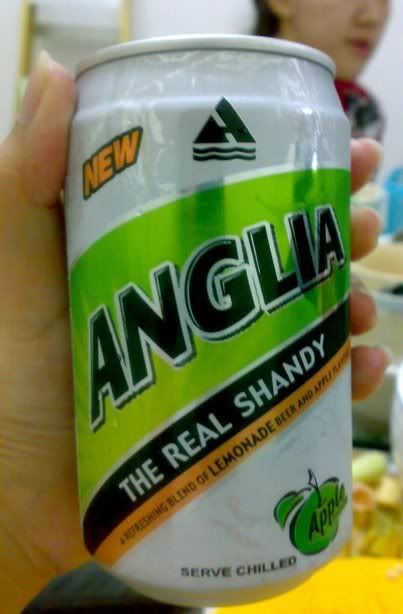 The new apple-flavoured Anglia Shandy. Has a hint of bitter taste in it.. and of course, apple flavour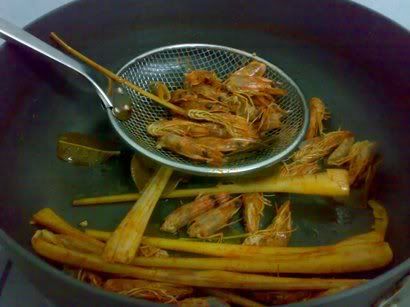 No more soup!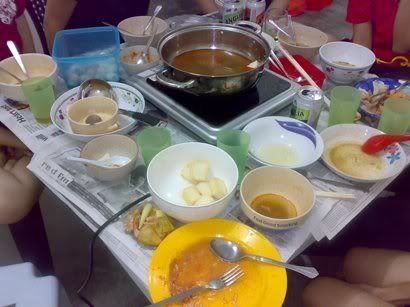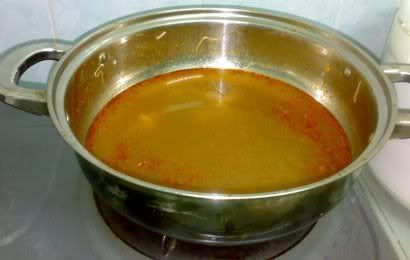 Leftover soup

We took more than 1 hour to finish up the things. However, we have plenty of leftover balls to be used for days to come! At least our kelian Korean noOdles won't be so plainla..

To wrap up this post, I shall put up a photo of Ken Sheng washing dishes. Wheeee!~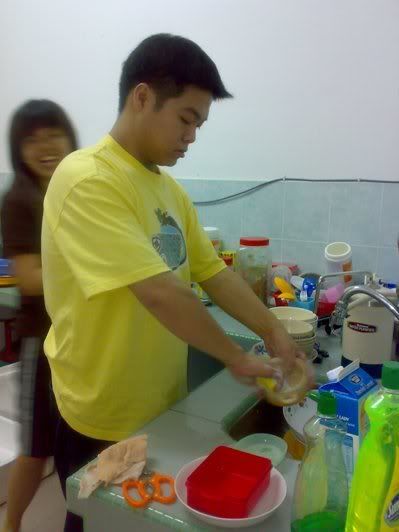 Mun Yee is so excited because she doesn't have to be the one washing goOey, oily plates and bowls. And utensils. Hee hee.