So. I basically
fong fei kei
-ed (
lepaskan kapal terbang
, lose flight.. ???) four lovely girls for a weekend Malacca trip to catch up with my uni friends.
I would like to apologize profusely to
Aimi
,
Liyana
,
Azrin
and Mai for fong fei kei-ing you all. Next time you girls see me, please do not hesitate to pinch or bite me.

Before meeting up with our uni mates, me and
EC
decided to have some "us time", so we went to
One Utama
for a nice breakfast and a movie.
We picked
Pick n' Brew
for breakfast thanks to their Pick n' Win promotion and some good reviews off other flogs.
I had the
American Breakfast set
, which consists of slices of fruits (namely green apple and honeydew here), a glass of orange juice, toast with jam and butter AND a delicious banana walnut muffin!
However, this is only the first part of the set. The next part which I forgot to take photo of, consists of toast, eggs (I had mine scrambled), beef bacon and hash brown! It is the same as what
EC
had below: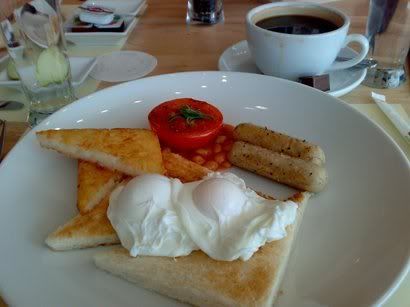 Anystyle 2 Farm Eggs Breakfast set
. The eggs can be cooked as you like them, and
EC
had his poached and he opted for chicken sausages instead.
We were quite satisfied with our hefty breakfast (comes with tea or coffee) which was quite cheap. Our bill totalled up to RM33 (including 10% service charge, no government tax surprisingly) but thanks to their Pick n' Win promotion, we had RM10 off and only paid RM23! =D The staff who served us was quite friendly and attentive so yay!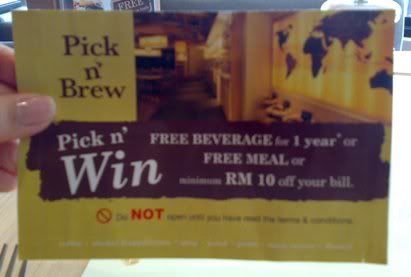 Must thank our lucky stars!
After breakie, we went for a movie at GSC. Oh! Oh! While lining for the tickets, I saw
KampungBoyCityGal
lining up for a movie as well! =)
"Oh my goodness! Why is he here? Somebody, call the paparazzi! Or the ambulance, in case he passed out.."
By the way, we didn't watch
Hancock
. We watched
Get Smart
instead, which was quite funny. Anne Hathaway kicked ass as Agent 99. I thought it would be a ridiculous-stupid humouristic kind of show since it is supposed to be a spy spoof (read that somewhere) but thank goodness for the action scenes, which were quiet cool. So,
pegi tengok k
?
After the movie we walked around awhile and had tea in
The Coffee Bean and Tea Leaf
before picking up
Dwight
, his friend
Ken Fee
(sorry if it is incorrectly spelled) and
Alex
to meet up with the others at
Lookout Point
.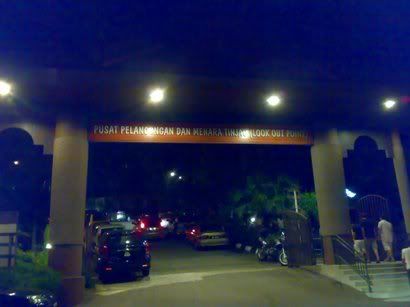 I never been there before so I didn't know what to expect. The two restaurants there were crowded with customers and I must say, although the food weren't so appetizing for me, the view of KL at night was breathtaking. Pity that they did not prepare a nice place or viewing since a lot of people were there to take photos. I can only manage this with my phone: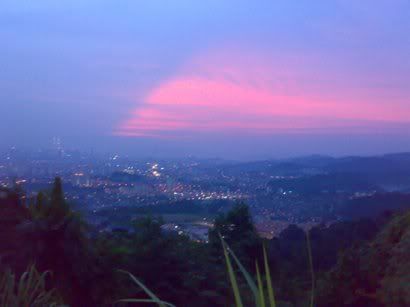 We rushed to
Taman Tasik Titiwangsa
to go up on the famous or infamous
Eye on Malaysia
, which is the 2nd time for me. We got ourselves a private gondola to fit 7 of us (minus
Dwight
and
Ken Fee
) which costed RM100. Were quite disatisfied since supposedly AMEX card members could get 10% off, but since the girl at the ticket booth lacked enthusiasm to explain why we couldn't get the discount (she was mumbling and I suppose the booth is sound-proof), we paid cash. Hmmph.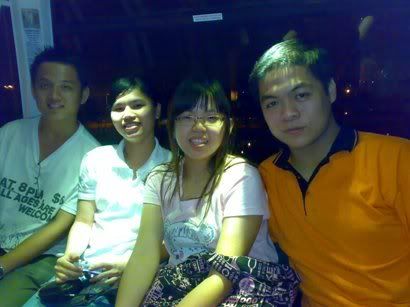 Alex,
Bee Kee
, Mun Yee and Ken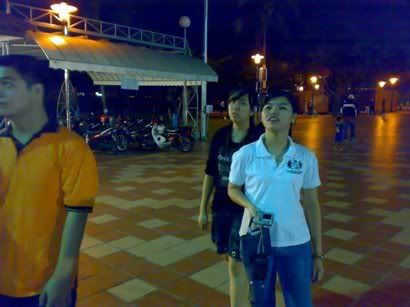 Bee Kee
: Phhwoooaarrrr..
Yen Lin: *blur blur mode*
The last photo is the sound-proof ticket counter/booth. =P
We stayed for some phototakings til the guards
halau
-ed us out of the place at 12-somthing am. =P
The next day,
EC
excitedly brought us out to breakfast in
Kedai Makan Yut Kee
, a place where his father used to take him to, somewhere in KL. Quite near to KL Tower I must say.
This is the result of chickening out from crossing to the other side of the road to snap photos of the shop although the road was clear
The shop it seems, is famous for its
Roti Babi
which
EC
ordered. The
Roti Babi
is made up of finely shredded pork and onions stuffed inside bread, hence, the name.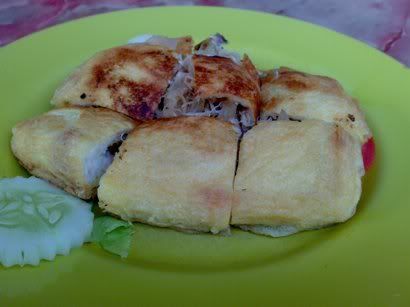 Looks a bit like murtabak isn't it? Unfortunately, the famous
Roti Babi
didn't go down well with me
la
. It has a sweet taste but somehow it lacks.. urm.. punch? =P And expensive at RM7.50.
EC
also admitted that it was not as it used to be. I felt bad because he was really excited about the dish since he never failed to suggest going for breakie there every weekend but I always
tolak
-ed.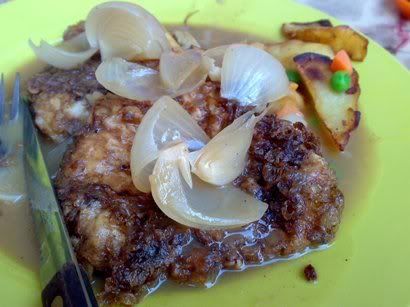 Since
EC
claimed that it was unofficially the
Eat Pork Day
, I had the
Pork Chop
. I like the texture of the meat because it wasn't tough but the sauce was tasteless that I drowned it with Lea Perrins sauce
AND
soya sauce! =/ The cold drinks served that day were also a bit watered down but
EC
's kopi was
gao
! =/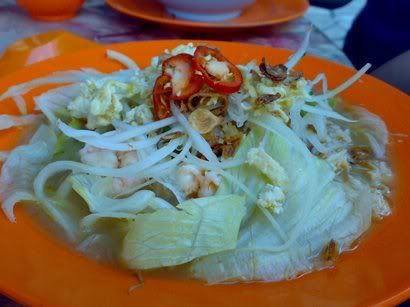 Lum Mee
that
Mun Yee
had. I could not recall her comment on it but the sambal that came with it was good and spicy! The sambal also came with the fried rice which
Dwight
ordered and he commented positively on it too.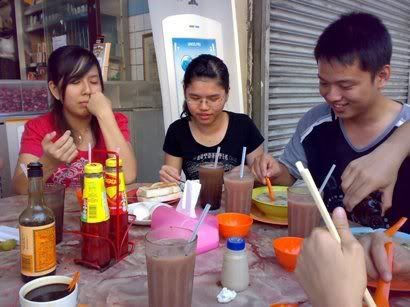 Yen Lin had chicken porridge,
Bee Kee
had half-boiled eggs with toast and Alex had pork porridge laced with A LOT white pepper. Well, he did it himself. =P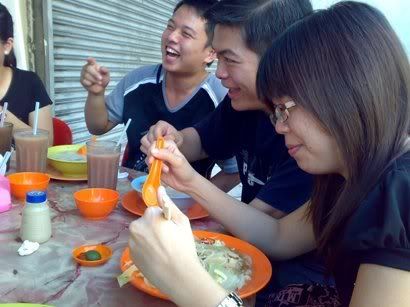 Alex must be very high of white pepper. Ken makan-ed fish porridge. Mun Yee battling her Lum Mee.
EC

and well-missed Roti Babi. Ken Fee with his Chicken Chop. Dwight splashing Lea Perrins on his fried rice. Mesti takde rase.
We left breakie for a nice Japanese lunch in
Ichiban Boshi, Pavilion
with
Pui Tze
. Although, I did not get any chance to take photos of the food, this place will be visited again definitely. Famous for its handmade soba, the
Tempura Seiro
(RM18) dish (cold soba dish with tempura veges and prawns) was really satisfying and it was definitely the best soba I had ever tasted! =D
If only they have branches in other malls...
Oh well, will end this post with a final photo of people who gathered for the weekend. Til then, have a nice day!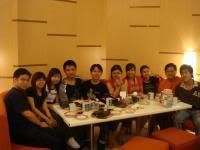 Thank you all for the great weekend, and hope to meet up again!