The line is absolutely, ridiculously slow since yesterday and I am
THIS
close to banging the modem/router against the dusty wall.
=/
The weather instantly changed into a hot one, a few days after I blogged about the rainy nights. Which reminds me that I AM definitely back in Terengganu again for my final year. I have yet to choose a title for my final year project (FYP) though- having some issues in picking a right title which will not lead me into screwing up my final year. Nonetheless, I have decided to stick to a topic which I had researched for last year Science Communications subject:
polyethylene terephthalate or better known as PET/PETE
(please look for the label below your reusable plastic water bottles to see its recycling symbol, got? got?).
I think so
la
.
Anyways, to beat the damn-
gao
-slow connection blues away, I shall be posting and commenting on some of my favourite things in this world, which is food.
On the second last day of being a trainee (it was also my last Friday in PJ for July 2008), me and
EC
had decided to skip work. I needed a haircut while he wanted to get his fuel injectors washed all nice and clean. And thus, we ventured to the nearest mall to my place, Sunway Pyramid for breakfast before parting ways to do our things.
After endless questions on where to eat, we decided to go to
Bistro Delifrance
, which is situated next to Dunkin Donuts. Ever since I was a child, going to Delifrance means good tuna croissant! I loved Delifrance's tuna croissant when I was young.
However, on that fateful day, I had something else instead!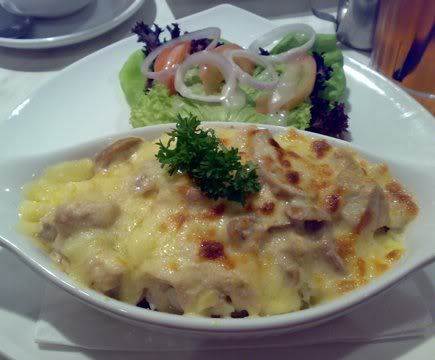 Creole Chicken Baked Rice, which is around RM15++
This dish arrived being not hot enough, but me and
EC
suspected it was meant to be that way in order to not burn the cheese topping and yes, the cheese topping is not burnt! The rice are all cooked well, unlike other places' where their rice is still a bit grainy, and thankfully the cheese topping is light enough that you will not easily get sick of it. They are quite generous with the chicken pieces too! =) I like this better than Kim Gary's~
For
EC
, he had: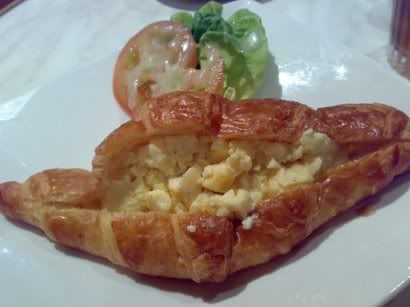 Scramble Egg Croissant, around RM7.80++ which comes with REFILLABLE coffee or tea
EC
never liked Delifrance's scrambled eggs since he complained they're a bit jelly-like and gooey, so I was quite surprised why he had it. The portion is just nice for those who likes small and quick breakfasts.
=)
sigh~ the line is still damn-
gao
-freaking slow
la
...
*grumble grumble*
Today's classes were incredibly entertaining for some reasons. *grins*