Brace yourselves for another post on food!
=P
Went to
Charms Cafe in One Utama
since I was having cravings for curry noodles. Since I had tried its Charms Laksa once and kind of liked it, I dragged
EC
to the cafe for dinner on Tuesday.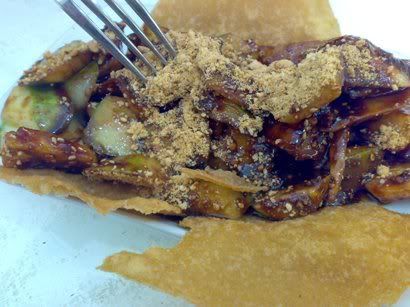 We started with a plate of overpriced
Charms Rojak
which has slices of mango, cucumber and
sengkuang
in rojak sauce with some
keropok
. Although I like the
keropok
very much, I was turned off slightly by the price
la
. RM8.50 is damn expensive for a plate of rojak
weh
.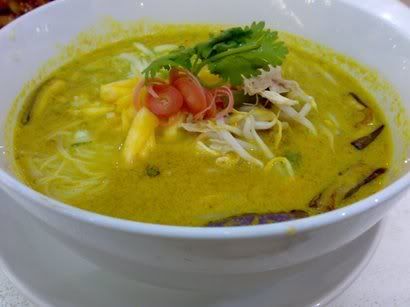 I opted for the
Green Curry Noodles
. Although it may not look green in this photo, but trust me, it is green! And the portion is quite big too at RM10.90! It has bits of cuttlefish, chicken, beansprouts, brinjals, lemongrass, cucumbers etc which reminds me of
laksa
sometimes. Quite a nice bowl of noodles for me!
EC
took the
Nasi Lemak Special
which costs RM10.90.
which comes with a small bowl filled with three pieces of rendang chicken!
The rendang chicken is tender and satisfactory, while thumbs up for the fragrant rice. However, I must say
BOO
to the sambal ikan bilis. Such a small dollop! And the ikan bilis tastes.. sweet! Y'know, like the ikan bilis snack you can get in the supermarket- crunchy and sweet. =(
We spent ALMOST RM40 with a glass of cincau soya as drink. Hmmph.
Yesterday we went to
Sunway Pyramid's Sushi Zanmai
to feast on:
Yakiniku Don - RM10.80 for small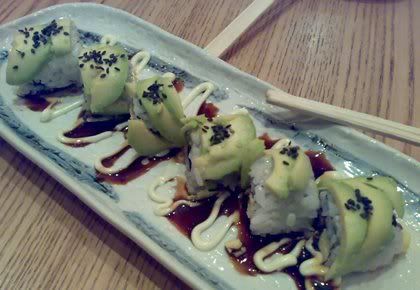 Caterpillar Roll - RM12.80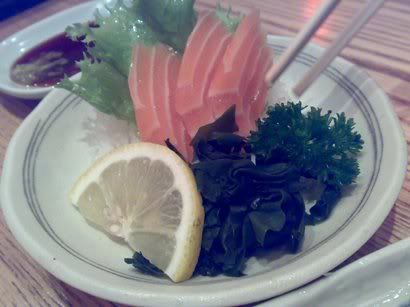 3 pieces of salmon - RM6.00
I
*heart*
the
Yakiniku Don
la
. So happy with it. If only they put in more slices of beef. Next time eat the large serving one
la
. Hee.
Caterpillar Roll
was my 1st avocado-eating experience. I never knew that avocado is soft! I had always thought it has texture like a half-ripe mangoes.
Tapi saya tertipu
! There's unagi inside this roll but I don't like it as much as the
Wasabillar Roll
. No eyes for me to squash. =P
As for the
salmon slices
, thank goodness that it lacked fishy smell. But the slices are quite small so.. hmm..
We spent around RM37. And enjoyed dinner listening to a pair of Korean girls conversing over-so-excitedly in their national language while eating Chicken Katsu Udons. =D
That's all for today, will leave you all with a photo of
The Soya Shop
(located in Ikano Power Center, somewhere near Dairy Farm and Shihlin Taiwanese Street Snack)'s RM2.80
Red Bean Tao Foo Fah
which tasted weird for me. Although the tao foo fah were soft-soft, I just find the combination a bit weird
la
. Ugh. Should have overload the whole thing with more syrup.
Hehe.