It has been raining occasionally at night nowadays in the part where I am currently residing in Terengganu. When the moning starts without any hints of rays from the Sun, rest assured that it would probably be pouring at night, complete with strong, howling winds which has the ability to send any cat flying.
Ok, i was kidding about the cat.
But definitely strong, howling winds, no doubt about it.
So, to warm myself up on this chilly night, I shall post a photo of a mug of chocolate drink from
theobroma Chocolate Lounge
, a new place which has just opened up, replacing Robert Harris Cafe (or watever it was) which is situated in One Utama (Highstreet First Floor).
But before that, here are
a few
two photos of the chocolatey place!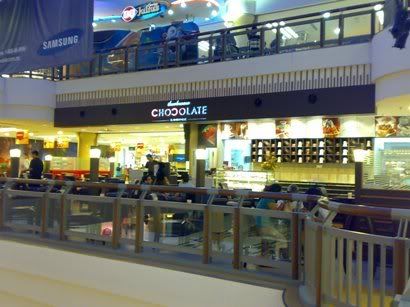 Approaching with caution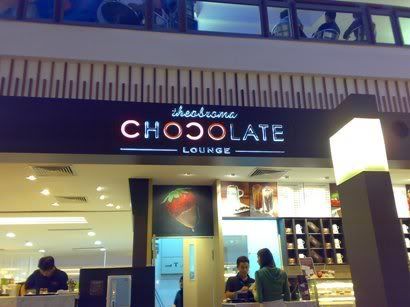 The chocolate lounge serves variety of chocolates which are sold by pieces, boxes and even bars. They are a bit expensive (RM4++ for a piece of choccie! =O) therefore I have not tried any. Not only that, they sell numerous chocolatey drinks (hot or iced) and blended chocolate drinks. Besides that, they have desserts like Belgian waffles, pancakes, crepes and etc, although I have yet to come across any good reviews on them. Tried their strudels but it's nothing to shout about.
Anyways, here's a drink that me and
EC
tried on our first time there: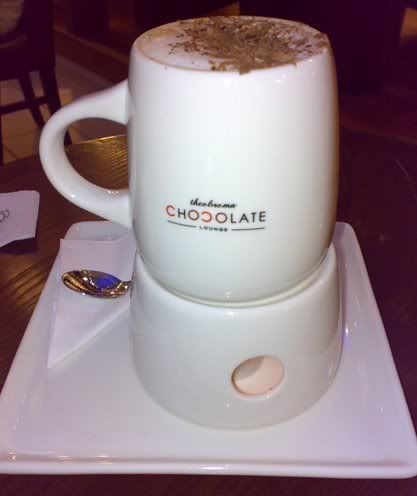 Fair Lady Mocha, priced at RM12.90 in a mug and warmer (also available in cups, but they won't keep your drinks warm)
The first time I took a sip, I was momentarily high of chocolates that I forgot that I was drinking mocha. Yesh. There weren't any coffee taste, at all and I was suprised. The chocolate was definitely rich and thick, however upon drinking too much, I noticed that the drink was a bit too..sweet.
=P
Anyways, shall be stopping by again for some chocolate indulgence! Wheee~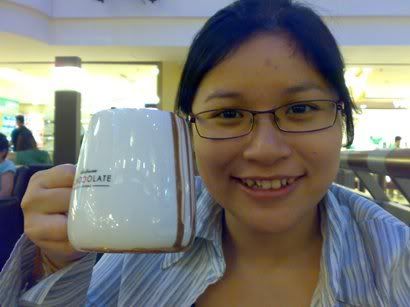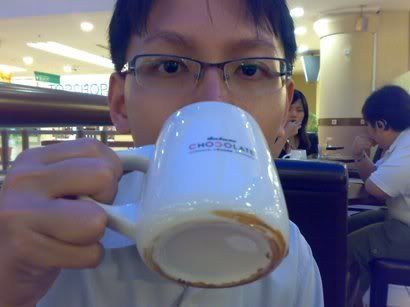 Cheers, mate!