Damn.
Tomorrow Machi will be in Bukit Kiara Indoor Arena
. And I won't be there. Damn.
On the second last day of internship, me and
EC
had decided to have lunch in
The Teapot Cafe
in SS2. It was raining cats and dogs when we reached SS2 and we had a hard time finding for parking. I remembered reading from other flogs that the place gets crowded during lunch hour until it will run out of some food, so I had some fears that we would not be able to get a place.
EC
dropped me in front of the cafe and I braved the rain into, only to find the cafe a little.. unoccupied.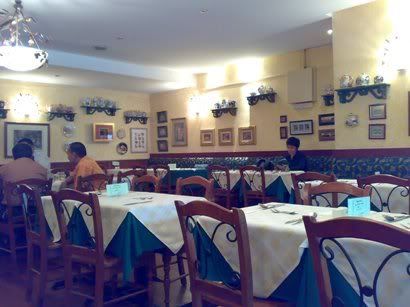 Hmm.
Buat saya takut jer
. Anyway, I picked to sit at the same table the last time we went there, with a huge mirror beside us which excited me to snap some photos.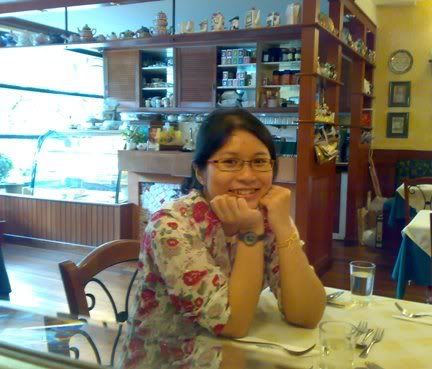 Will you just look at the teapots behind me! So many..
Notice the teapots on the walls?
EC
wondered if they had ever cleaned the teapots. I must say that the cutleries were a bit..not well cleaned and the table cloth had some stains on it. Oh well, it's nothing to be worried about I guess.
We proceeded to other our lunches which were a bit pricey.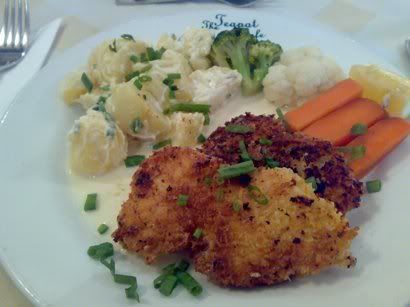 Fish Milanese (around RM20.50++ if not mistaken)
I accidently squeezed too much lemon juice on my fish, so it was a bit sour. However, the dish was delicious since the dory fillets were marinated before coated in some butter and garlic! They overfried one fillet though. I had trouble finishing up the food since it was quite filling with the potato salad and boiled veges. To my dismay, there was a dead worm on my broccoli. =/ But I hushed it up and cut the part with the worm away. Pity the worm
la
. Let it rest in peace. =P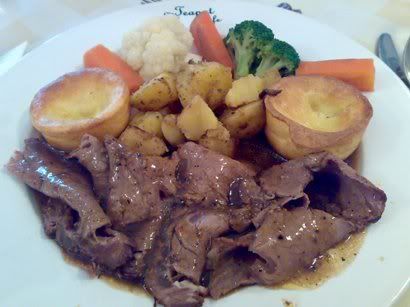 Roast Beef (around RM25.50++)
Since it was a Thursday,
EC
got to have his Roast Beef, a dish that he had been wanting to try since he saw it in the menu. I must say the Roast Beef was delicious, though I wish they should have made the black pepper sauce a little thicker. The slices of beef were tender (and thin!), and the fatty parts were not hard to chew on! The dish makes a hearty meal since it comes with potatoes and two thingies which reminded
EC
of
cucur
. =P And boiled veges too!
We were too stuffed until we decided NOT to have scones with tea after that.
I wouldn't mind coming back to this place for meals, but I think they have to improve some things a little. For example, if you look at the boiled carrots on
EC
's Roast Beef, they did not take off their skin properly, leaving some black black strips of skin. Hmmm..
Looking forward to have tea there again though. I like their scones. =D